20 popular companies that offer remote jobs in India
The Indian job market is so packed that every year, over 3 million graduates are produced. This creates a narrow window to get a decent job. Targeting companies and aiming for their requirements is a good way to land a job, particularly remote jobs in India.
With the current job market plunged under the hands of CoVid-19, the alternative would be to choose remote jobs in India. I have got you covered in this job hunt.
Among the popular portals out there, people prefer Truelancer for getting freelance jobs and Remote.net when it comes to remote work in India. AngelList and Gharsenaukri are two more platforms where people search for remote work in India.
Waw Asia - the remote job portal for Asia
We at Waw Asia work towards the vision of building the biggest platform for talented individuals to get their perfect remote jobs all over Asia. 
We strive to bring in talents from Asia to global corporations and integrate them to satisfy their corporate needs.
This list contains the top 20 companies; companies that graduates eye on and doors for remote jobs in India. If you are looking to work remotely from India, this list will help you a lot.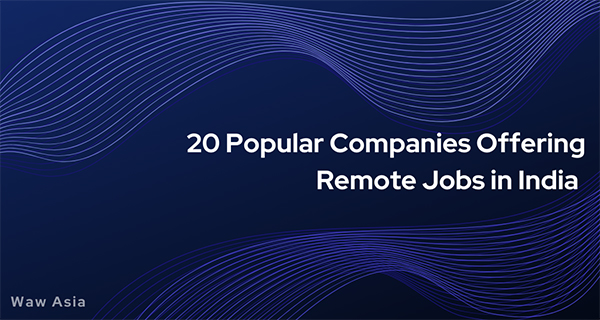 20 Poplular Companies Offering Remote Jobs in India
Major Businesses offering remote jobs in India
Amazon
One of the biggest names in the world,
Amazon
is a favorite and popular recruiter in the country. With almost
800,000 employees
, there are various roles to choose from the software developers, testers, virtual assistants, customer support, logistics, and sales.
For the Indian subcontinent, Amazon provides a separate Virtual Customer Service (VCS) making anyone with basic communication skills apply and work remotely from India.
Other major high paying roles are available for virtual positions as well, depending on their vacancy.  In fact, Amazon runs a separate platform for remote work in India. If you qualify, you could work remotely from India for Amazon.
Following the pandemic, Amazon also stepped in to help people who lost their jobs, by hiring 500,000 temporary workers. This makes the future of remote work from home in India a developing model.
Salesforce
The Internet giant based out of California provides immense job openings around the world. With sales, business development, and IT occupying large proportions, remote work in India is a part of Salesforce.
With the new CEO Arundhati Bhattacharya, Salesforce is expected to increase its workforce with another 1000 professionals. 
Over a decent period of 21 years, Salesforce has established itself as a decent recruiter in the Indian job market providing cutting edge SaaS to their clients.
Salesforce provides decent remote working jobs in India and so you can find job openings on their website and on remote job portals as well.
Applying through a job portal may give you several doubts but that is normal. Here is an
FAQ page
that will sort out most of your queries.
American express
In 2018, American Express was one of the Top 100 companies for Remote jobs from FlexJobs.
Although the major openings are in the sales sector, the 150-year-old company provides remote working jobs in India from customer care professionals and software engineers.
Amex from Gurgaon expects programmers, chiefly full-stack developers for their company. Hence if you have skills handling SQL or Oracle, you will find Amex appealing.
As developers are in-demand roles, there are other roles that are trending right now. To find out the remote work from home options in India, you might find
hot jobs
in Waw Asia's job portal extremely useful
Altran
Altran, a part of its parent company Capgemini is a pipeline recruiter in India. 
They provide multiple openings for various positions ranging from developers and testing engineers.
Primarily if you are just starting out, basic programming skills are what they look for. The company works on various domains hence if you have experience with semiconductors and application-level programming tools, Altran may have a seat for you.
Their remote work in India ranges from temporary to permanent depending upon the job availability and projects.
ADP
Human Resources is an evergreen area and ADP has withstood the test of time since 1949. Securing an award along with four other market giants for better workplace innovations, ADP provides good remote job options. 
The fortune 500 company offers great scope for business specialists and managerial roles.
With multiple locations in India, ADP offers nice options to work from home. Remote work from home in India is updated on LinkedIn and on their website.
Byju's
One of the leading pioneers in education,
Byju's
had a staggering growth over the years and is now a popular icon in India. Born in Bangalore, the software hub of India, they are considered as one of the
high paying startups
in the country.
Byju's official app is a huge success now and has established its brand name in the people's minds and attracts young aspirants.
The job roles that Byju's offers are non-technical and people-friendly roles that include writing, sales, and business development.
With a ton of openings for creative artists, writers, and storytellers, Byju's provides an excellent platform for people looking to enhance their profile. 
BCD Travel
Located in Pune, Chennai, and Bangalore, BCD travel offers travel advice to companies and sorting out by providing travel solutions. They offer a variety of web application products to help people manage their travel itinerary. 
BCD Travel was awarded the most admired travel management company and they stretch over 100 countries around the world.
Even though with over 13,000 employees, the vacancies are minimum in this travel agency. Yet there are chances for remote work in India under every domain, particularly in customer service.
SAP
For over 40 years, SAP has been a leader in the Software arena and has provided employment to thousands. Providing remote opportunities to employees, SAP has a massive workforce comprising professionals from various domains.
People management, networking, supply chain, finance; you name it SAP has a software designed up and running right now. Being 2020's Top Employer, finding a position in SAP would be easy for a talented individual.
With remote work in India on the rise, people look out for developers and customer support roles in SAP that don't compromise on the pay scale.
Pearson
Leading the way in the educational industry, Pearson is known for its flexibility and diversification of its employees making inclusivity a part of the company's environment.
If you are passionate about writing, Pearson provides huge remote job openings depending upon the availability. 
Translators, writers, advisors, and people with brilliant communication skills can land in a good-paying position.
If you find such roles to be pleasing, you can check out the similar
language jobs
in our portal.
Capgemini
Another giant in the IT industry, Capgemini has moved almost 90% of its current workforce to work from home this year.
The company's CHRO believes in working remotely and that a major portion of its employees will continue to work from home even after the pandemic.
This might open doors for people who want to work remotely from India. If you have basic problem-solving techniques, expertise in any programming language, and excellent communication skills, Capgemini will welcome you in.
Getting into a pipeline listing company can be a threat in the long run. If you wish to find similar roles, here are some best picks of the
software jobs
from Waw Asia.
Appen
Appen is a tech-based startup that powers work for thousands of people around the world. They provide flexible working options for people who want remote working jobs in India and around the world.
Appen operates in multiple zones, predominantly in Chennai. But that is not the point, is it?
Appen believes that remote work will occupy a large section of the world's workforce, where people can work at their pace in their preferred domains without commuting to a physical workstation.
In fact, that is the
theme of Waw Asia
as well - making remote work available to everyone around Asia. 
AstraZeneca
The pharmaceutical industry is one the rise because of the pandemic, as people push for a solution. One of the popular names in the pharmaceutical industry, AstraZeneca has been around for four decades in the country with a decent workforce of 1400 employees.
Creating cutting edge medical advancements, AstraZeneca always has room for new talent and they eye the young guns for their software roles. 
If you are good in DevOps and programming, you can find a ton of possibilities to work from home.
They provide modern facilities and measures for their team and are planning to recruit employees who will be working on their digital tools in the years to come.
Parexel
Following AstraZeneca, Parexel is another key player in the world's health industry. 
Anyone who is technically sound in medicine can find a lot of doors waiting to be opened. From writing to consulting to engineering, Parexel welcomes all.
Although they do not post their job availability on multiple platforms, you can find vacancies for remote work in India on their website and on LinkedIn.
As for remote roles, they have their digital tools to get things done and interviews through video streaming. With that being said, you will be all clear to work remotely from India.
United health group
UnitedHealth Group along with Optum, its healthcare solutions company are popular recruiters in the country.
From creative roles like writing to support roles like admin coordination to technical roles like engineering; UHG covers all and brings in people from different walks of life.
Noida, Hyderabad and Gurgaon are the locations in the nation. The big thing is they offer possibilities for remote work in India.
Kelly Services
Operating at multiple locations across the country, Kelly Services is specialized in staffing and recruiting people to their respective roles from engineering, IT, and consumer requirements.
Content writers can find multiple openings with Kelly Services. Along with that, anyone with exceptional writing and communication skills, marketing, and business management can get hooked with them.
Start-ups providing remote jobs in India
The next five on the list are successful startups from the country. Startups are as good as the big giants in the industry and it is worth mentioning that they have grown a lot and generated a ton of revenue.
Here's the good news for you. They provide high paying remote jobs in India.
SpiceBlue
For the creative minds out there, SpiceBlue offers splendid UI/UX designing roles. Originating in Chennai, SpiceBlue provides visually pleasing user experience in the digital world.
With an incredible portfolio, SpiceBlue is an excellent option for freshers or people who want to work independently. With around 50 employees, SpiceBlue delivers high-quality digital user experience models for high-end companies like Intel.
The remote job roles mainly comprise of graphic designers and writers but there are excellent roles for developers and business executives as well.
Chargebee
Originating in Chennai, this billing partner employs around 500 people and provides remote job chances to engineers and in the customer support domain.
Chargebee ties up with the giants of the payment industry like PayPal and has generated five rounds of funds which is a clear sign for a growing company.
If you are into writing, developing, or sales, you can find suitable roles and work remotely from India for Chargebee. 
OYO
Ranked No-3 in LinkedIn's top companies, OYO was a start-up and has not grown to become a great example of entrepreneurial success. Originating in Haryana, this hospitality brand is highly sought after by graduates all over the country.
There are a ton of management roles in OYO and you can find remote jobs as most of the employees recruited are from Asia, primarily from India.
From fulltime to part-time to freelance roles, OYO is ready to bring in any roles and always have a ton of remote working jobs in India.
If freelancing is your goal, check out Waw Asia's
remote freelance jobs
.
You might find your ideal client and start to
work remotely from India.
Atlan
Atlan is an IT services company that is changing the way IT professionals work. Due to the pandemic, more than 90% of the country's IT workers went remote. 
Atlan on the other hand, promotes people to work remotely from India for their company. From developers to software engineers to accounts managers, you can find the best roles that suit you.
Do you doubt you may not have enough experience? That is not a problem. 
Atlan provides remote internships for young graduates to equip people with experience in the industry.
ZeroFOX
This network security company with over 200 people is changing the game in digital security and online safety measures.
Backed by reputed investors like Intel, their performance has been excellent over the last few years. Located in Bangalore, ZeroFOX provides virtual and remote options of work. 
As they are a startup, the openings might be unavailable but their website constantly updates for positions that are needed to be filled.
From customer operations to sales to tech roles, every skilled individual will find this a perfect fit.
Conclusion
With the rising importance of remote jobs in India, people will naturally drift towards finding ways to work remotely from India.
Just like these top companies offering remote jobs in India, there are tons of opportunities out there. You don't have to move from your home, build an outstanding career by working remotely from India with your dream company. 
That is what we do in
Waw Asia
- helping talented people find their best remote jobs around Asia. Have a look at our
job portal
to find the top
remote jobs in India
and all over Asia.